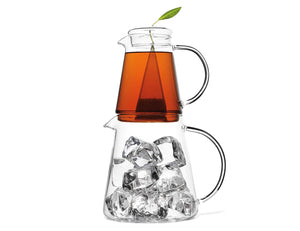 Make iced tea into an entertaining event! Our Tea Over Ice® Pitcher Set includes two hand-blown, heat-resistant Steep & Chill™ pitchers that stack for a dramatic tableside presentation. To make iced tea, simply place one of our Tea Over Ice pyramid tea infusers into the lidded top pitcher, steep, and pour the freshly-brewed tea into the ice-filled lower pitcher to flash chill in seconds. The proportions of hot water, tea, and ice are perfectly balanced to produce 24-ounces of iced tea with each tea infuser.

Features & Measurements

Includes one small hand-blown pitcher for steeping hot tea (12 oz), one large hand-blown pitcher for holding the ice (24 oz), and one glass lid for the top pitcher
All items are made of a durable, heat-proof glass capable of withstanding a wide range of temperature extremes
Dishwasher-safe, not recommended for microwave
Box measures 6.1 L x 11.4 H x 6.1 D"